10 Best Blood Pressure Monitors in India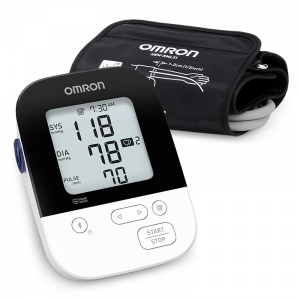 blood pressure is one of the most important vital signs, you should monitor it regularly. Even if you are not currently suffering from hypertension (high blood pressure) or hypotension (low blood pressure), many underlying health conditions can be identified from your blood pressure. Hence, having a BP machine handy at home can be a great way to help diagnose high/low blood pressure so that timely treatment can begin.
The Best BP Machines in India:
1.DR MOREPE BP 02 BP MONITOR:
The Dr Morepen BP machine is a highly user-friendly device that can be used at home by senior citizens as well. This device is known for providing results that are close to the accuracy of a manual machine. One of the most important features of this BP machine is that alongside blood pressure, it also displays the real-time heart rate (or pulse rate). Due to all these features, this instrument is also used in healthcare facilities for clinical purposes.
Benefits:
Easy to use with minimal effort.
Provides nearly accurate results.
It can be used with a single button.
Easy to set up with simple instructions.
Large and bright LCD screen.
Special memory function to store BP readings.
Low battery indicator.
Alarms users in case of high blood pressure (hypertension).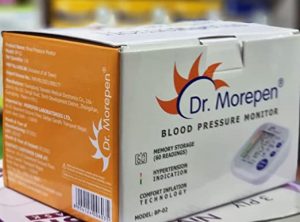 | | |
| --- | --- |
| Brand | DR. MOREPEN |
| Power Source | Battery Powered |
| Display Type | LCD |
| Size | Medium |
| Item Weight | 0.95 Pounds |
| Model Name | Blood Pressure Monitor |

2 DR. TRUST SMART TALKING BP MONITOR:
The Dr Trust BP machine has a smart-talking feature that can come in handy if the user is not able to comprehend the readings themselves. It is best suited for people who have difficulty using such electronic devices. With audio guidance in both English and Hindi, even the layman with no knowledge of using a BP machine can use this device. This device can also be beneficial for people who are visually impaired. However, if you do not need the audio guidance, you can always mute it and use the device as a regular blood pressure monitor.
Benefits:
Uses smart technology that measures blood pressure during inflation to provide more accurate and faster measurements.
Improved pumping technology reduces extra unnecessary pumps with a smart algorithm.
Hence it is perfect for senior citizens who usually cannot withstand the pain of longer durations of cuff inflation.
Measurements are quick and accurate and the cuff does not need to deflate completely to display the results.
The Dr Trust BP Machine cuff is larger than most other devices, making it compatible with people of all sizes.
Detects heart rate and identifies abnormalities in it.
Can be powered using a micro USB cable.
Can be powered using 4 AA size batteries as well.3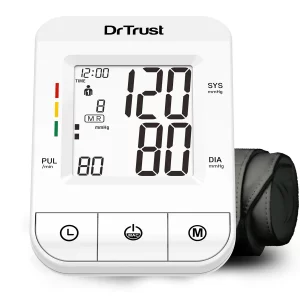 3 HealthSense Digital BP Monitor:
HealthSense Classic BP100 Talking Blood Pressure Monitor is another efficient and accurate model that comes in a deluxe blue and white body with an LCD display.
It boasts of a highly useful talking function that delivers instructions, reads out blood pressure measurements with WHO compliance in English.
This FDA approved BP machine uses body movement indicator and BP Level Voice Command to make your experience much accurate and easier.
Also comes with latest and improved oscillometric technology to offer reliable test results.
What We Like?
Warranty: 1 Year
Cuff Size: 22*42 Cms
Easy to read the metrics
Snug-fit USB port for fast charging
Stores memory of 2 users with 90 readings each
Talking feature provides step-by-step instruct
4.HealthSense BP144 Digital Monitor:
HealthSense upper arm digital BP machine talking feature provides the basic instructions like switch on/off, wrap cuff on wrist, etc. in English.
The self-lit LED display and acrylic screen makes it easy to read the metrics in darkness by using a colourful WHO indicator.
It is equipped with the intelligent pressure sensing technology for precise measurements.
Charge the device using batteries or by connecting a type-C USB cable to a mobile, laptop, or adaptor.
What We Like?
Warranty: 1 Year
Cuff Size: 22*42 Cms
Dual power modes
Auto-off feature saves power
Tracks blood pressure and pulse rate
Good customer support services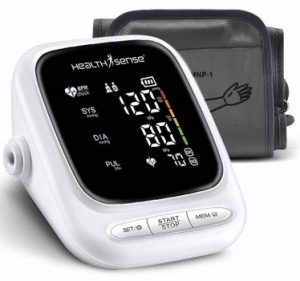 5.Dr. Morepen BP Monitor Machine:
The Beurer digital blood pressure monitor is great for home use as it comes with a haemodynamic display which provides instructions on how to use it.
It is accompanied by a large arm cuff that fits arms of any size and inflates to measure the exact readings.
It provides precise measurements of the last 60 readings and automatically gets saved for future reference.
Tracks your pulse and keeps you alarmed incase of medical emergencies.
What We Like?
Warranty: 5 Years
Cuff Size: 22*36 Cms
User-friendly nature
Wide and comfortable arm cuff
Suitable to use for elders and pregnant women
Elegant design with silver coating
 6. Rossmax Blood Pressure Monitor:
Rossmax BP machine comes with a movement detection feature to remind users to remain still so as to generate the correct results.
It can store the data up to 90-recordings and even gives the average of the last 3 readings.
With a one-touch operation on the power button, this device starts displaying the SYS/DIA metrics.
Hypertension risk indication and irregular heartbeat detection will be known using this machine if you are experiencing such symptoms.
The latex-free cone cuff can easily be wrapped on the left/right arms without causing any discomfort.
If you want to go with the analog model, do check out the Rossmax GB101 BP machine that comes with added safety and comfort.

What We Like?
Warranty: 2 Years
Cuff Size: 24*40 Cms
Simple and elegant design
Affordable to buy online
Automatically displays accurate test results
Power source: Battery operated
7.Dr.Trust Digital BP Machine:

Dr Trust BP smart machine with MDI delivers accurate measurements by tapping on the power button.
Seamlessly measure the systolic, diastolic pressure, and pulse rate after inflation has been completed.
The LCD display with hypertension indicator lets you keep a track of BP when it is normal, moderate, or high.
Talking features makes things easy for people with poor eyesight by assisting them in multiple languages – Hindi, English, Spanish, and German.
If you are looking for an affordable option, prefer buying Dr.Trust Automatic BP Monitoring Device from the Amazon store that stores 120-readings with date and time.
What We Like?
Warranty: 1 Year (Extended to 5 Years)
Cuff Size: 22*42 Cms
Easy to use and maintain
USB port connectivity
Advanced fuzzy algorithm
New pumping technology
8.BPL Blood Pressure Monitor:
BPL blood pressure monitor is highly accurate as it works on the principle of oscillometric and comes with a minimum deviation of +/-3mmhg.
It has a memory that can store readings of systolic and diastolic pressure.
This device can be operated using a battery or by connecting to the adaptor.
The 3.2 inch large LCD displays accurate results when equipped with body movements and cuffs are wrapped correctly.
The kit contains 4 batteries, medical adaptor, carrying pouch, and a user manual.
What We Like?
Warranty: 1 Year
Cuff Size: 22*45 Cms
Detects irregular heartbeats
Embed with double filter fuzzy algorithm
In-built auto memory function (80-readings)
Low battery indicator and alert system
9.Omron HEM-7120 Automatic Blood Pressure Monitor:
Omron HEM-7120 Automatic Blood Pressure Monitor is one of India's most widely used BP monitors at home.
It has a good display and can show systolic, diastolic, and pulse rates in one go using the IntelliSense technology that applies the right amount of pressure.
It is especially preferred by the elderly because it has just one button to start and stop and one can easily take the reading.
Though it is one of the best-selling BP monitors, it can only store the last reading.
Error when detects a movement in the body, hence prevents from displaying wrong results.
It can measure the pressure ranging from 20 to 280mmHg and pulse from 40 to 180 beats/min.
The 4 alkaline batteries with each 1.5V have the capacity up to 1000 measurements.
10.AccuSure BP Monitoring System:
This AccuSure BP machine comes with a large LCD display to view the readings properly.
It displays the error codes when the machine detects an irregular heartbeat and pulse readings.
It is equipped with the strain gauge sensor system to measure the blood pressure effectively.
This machine can store the last 60-readings within the memory.