Fairness Cream
Max Fairness Cream has include kojate arbutin  combinate tackle a dull, uneven complexion and pigmentation . Vitashine Cream For All Skin Type It help a unique formulation for easy application faster absorption better nourishment to the skin . Product Weight 50g It give that clear skin look which inhace the complexion ,even tone , natural glow etc.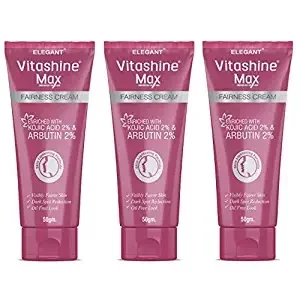 Brand                              VITASHINE
Scent                               Aromatic
Item Form                        Cream
Use For                             Face
Skin Type                          All, Oily, Sensitive, Dry, Normal
Product Benefits               Smoothning , Lightening
Age Range                       Adult
Specific Use For Product  Nourishment, Dark Spots, Pigmentation
Item Weight                     50gm
About This Item:- 
Formulated Specially To Give You A Flawless Complexion. Smoothning In Onto Cleansed Skin Every Morning AND Evening Will Give You A Skin That's Fair And Glowing From Within.
Cream Combines Ingredients To Tackle A Dull, Uneven Complexion And Clear Dark Spots, Discolored And Pigmented Skin.
It Has A Unique Formulation Which Ensure Easy Application Faster Absorption Better Nourishment To The Skin.
Enhances The Complexion, Events Out Skin Tone, Imparts A natural Glow, Lighten The Skin, Reduce The Appearance Of Blemishes And Keeps Tanning Under Control.

Vitashine max fairness Cream