Papaya Glowing Face Pack
Papaya Face Glow Pack Helps Reduce Acne By Removing Dead Skin Cells That Can Clog Pores. papaya face pack for whitening skin And Papain Can Also Remove Damage Keratin That Can Build Up On The  Skin And Form Small Bumps. papaya face pack for instant glow It Is A Natural Moisturizer That Helps Fade Away Pigmentation & Glowing Healthy Skin.
Papaya is generally suitable for all skin types. Some may experience a few side effects, though, in general, the fruit has been found to offer benefits. In the following section, we have listed the different papaya face packs you can use.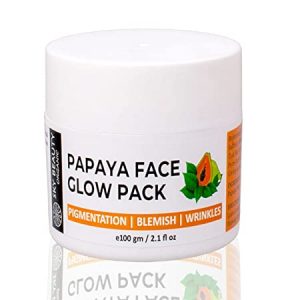 Product Specification:-      
Brand                                             Sky Beauty Organic
Skin Type                                       All
Item Form                                     Paste
Product Benefits                            Brightening
Scent                                             Papaya
Material Type Free                         Alcohol Free
Number Of Item                             1
Material Features                          Glowing Skin, Brightening, Blemishes, Pigmentation, Deep Pore Cleansing
Active Ingredients                        Papaya, Saffron, Bentinite Clay, Licorice, Aloe Vera,  Vitamin E Oil, Sandalwood
About This Product:-
Glowing Skin
Brightening
Blemishes
Pigmentation
Deep Pore Cleansing