Glutalight skin lightening cream
The Glutalight skin lightening cream and vitamin-c combination together work is very good it gives radiant glow safely. It help to remove all the pigmentation and prevent the glass skin To Improve Skin Texture And Offer A Radiant Glow. This All In One Skin Cream It Helps Reduce  Blemishes And Spots To Provide A Youthful Glow.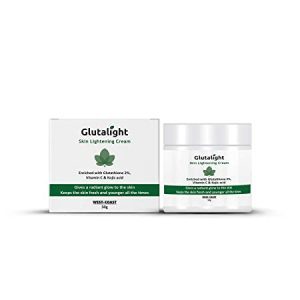 Brand                                                      :  HealtheVet
Item From                                              :  Cream
Skin Type                                               :  All
Material Type Free                                 :  Paraben Free, Silicon Free
Product Benefits                                    :  Lightening, Brightening
Age Range                                             :  Adult
About This Item:- 
 Best To Fade Dark Spots, Blemish Scars, And Hyper Pigmentation, And To Gently Exfoliate And Brighten our Complexion.
BEST FOR:- These Product Contain Vitamin C, Which Is More Effectively For Lightening The Skin.
Clean & Transparent Beauty:- Unlike Most Skin Lightening Cream, Our Product Is Paraben Free, FDA Approved Formula . It Harnesses Some Of Natures Best To Fade Dark Spots, Blemish Scars, And Hyperpigmentation, And To Gently Exfoliate  And Brighten Your Complexion.
Powerful Ingredients:- 2% Glutathione, 5% Vitamin C, 1% Kojic Acid, 3% Papaya Extract That Will Keep Your Skin Soft, Smooth And Beautiful.
Promotes Healthy Skin:- The Glutathione And Vitamin C Combines Together To Give Your Skin A  Radiant Glow And Safety From Skin Issue.

Glutalight skin lightening cream With Natural Ingredients