Insta Cream
Fair Insta Cream cream includes shea butter & Alvera it is for all skin types. fair insta cream reviews And also for sensative skin we can apply this cream whole both this cream is especially made for indian skin creams newish insta glow cream. Skin Lightening Cream is a skin whitening cream with light beige color. It is specially designed for the Indian skin. It brightens the skin, lightens the dark spots and brings radiance and glow on the skin. It also protects the skin against the harmful radiations of the Sun.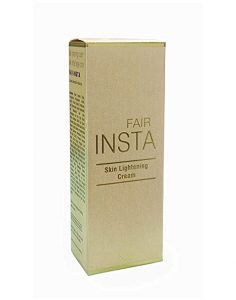 Brand                                    Breemetic
Scent                                     Shea Butter, Aloe Vera
Item Form                                Cream
Use For                                     Whole Body
Skin Type                                   All
Product Benefits                        Lightening, Skin
Specific Uses For Product           Dark Spots, Inflammation, Brightening, Pigmentation
Number Of Items                          1
Recommended Uses For Product  Whitening
 About This ITEM:-
Pack Of 1
Skin Lightening Cream
Lightens The Dark Spots And Bring Radiance And Glow On The Skin.