Skin Lightening Cream
Dermolite Skin Lightening Cream product is come from the brand d.operio which is for skin lightening dermolite skin lightening cream uses and brightening it has a different formula that gives you instant glow and gives instant fairness it also has loojis acid which helps to protect from sun and tanning, dermolite skin lightening formula.good results for Glowing & Youthful skin Lightens dark spots Sunscreen protection All type hyper-pigmented skin Reduces fine lines and wrinkles Encourages firmer skin Deeply hydrates and moisturizes skin Removes extra melanin.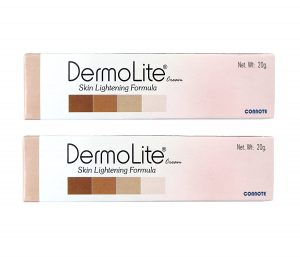 Brand                                           OPERIO
Item Form                                    Cream
Use For                                         Face
Skin Type                                      All
Product Benefits                          Lightening
Sun Protection                             SPF 20 SPF
Specific Uses For Product            Dark Spots Uneven Skin Tone
Recommended Use For Product   Dark Spots
Number Of Item                             1
About This Item:- 
Protect From Harmfull UV Rays And Improves Skin Tone.
Helps To Balance The Skin Tone By Reducing Uneven Pigmentation.
Rejuvenates Skin And Helps In Lightening Spots And blemishes.
Provides Protection From Tanning And UV Rays.
Product description
good results for Glowing & Youthful skin Lightens dark spots Sunscreen protection All type hyper-pigmented skin Reduces fine lines and wrinkles Encourages firmer skin Deeply hydrates and moisturizes skin Removes extra melanin

 Dermolite skin lightening cream