Top 10 best websites for flight booking in India (2022)
Planning for a trip and want to book flight? then you're  at right place, here we are listing top 10 best websites for flight booking in India (2022).
But before going in it how will you identify which website is best for your travelling, so I have some ideas and tips to share with you for your best travelling experience and booking of airline ticket. There's a lot of advice out there about finding inexpensive tickets, from being flexible with your dates to looking at nearby airports. There are also a variety of strategies to save on the flight itself. You can keep in mind some essential and relevant points while choosing the best website for booking flight in India. We hope that after looking through the many alternatives, you will be able to get the cheapest rates for your travels. The website should contain Best:
Booking Experience

Speed Loading

Customer Service

Offers And Discounts

and Cheap Fare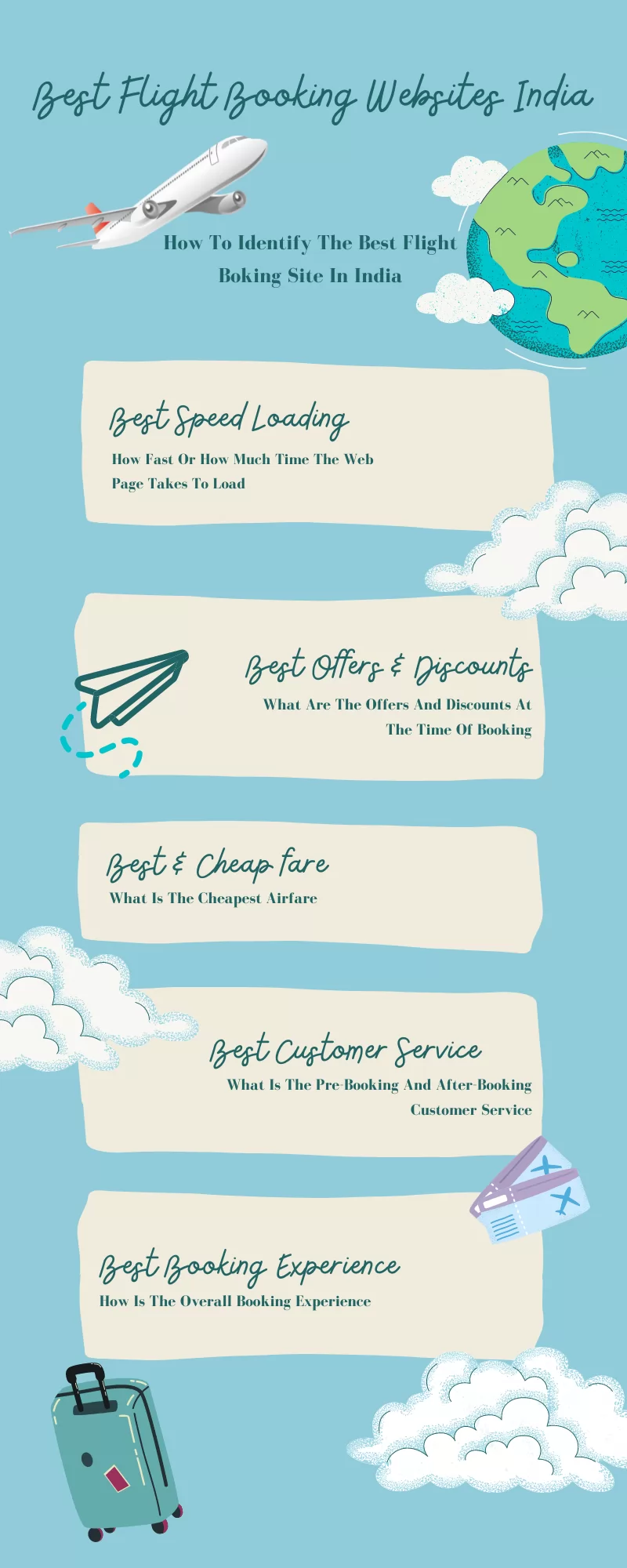 List of best Websites for flight booking in India:
Ixigo
Yatra
Paytm
Cleartrip
EaseMyTrip
Kayak
TripAdvisor
Skyscanner
Goibibo
MakeMyTrip
10. Ixigo
Ixigo is a famous flight ticket booking website that over 200 million Indians love to find them the right air reservations at suitable fares. It has certain unique features which further help increase your savings. It enables you to predict flight fares for upcoming trips. This way, you can save upto 40% of the fare by playing it smart and snagging a ticket when it's cheap. Furthermore, it also has an 'Explore Flights' feature that helps you find a holiday spot that fits your budget!
Why Choose Ixigo?
Live flight status and tracking
Money refund within minutes
Smart fare alerts and web check-in
Get the best deals and offers on flight tickets

9. Yatra
The preferred choice of travelers, Yatra lets you book your preferred flights at lucrative prices. It enables you to book one-way or round-trips to Domestic as well as International destinations. Yatra also offers holiday packages as well as bookings on hotels, buses, and cabs. Their network includes more than 5,00,000 hotels, 15,000 bus routes, and cab rides in more than 100+ cities worldwide.  You can rely completely on Yatra for your trips. If you're part of an SME, you can avail the benefits of the Yatra SME app. Here, low cancellation fees and special rates are waiting to delight you.
Why Choose Yatra?
Flexible trip routes
Easy to operate
Secured payment gateway

8. Paytm
Paytm is more than just an app helping you to make transactions.In reality, offers a wide range of services. You can use it to shop, pay bills, buy services, and plan travels. It offers flight reservations, so if you don't want to download any more apps than the ones you already have, use Paytm to make your trip arrangements now.
Why Choose Paytm?
Use to use and book the flights
Offer amazing deals on Flights
24/7 Customer Care
Discount on Bank Payments

7. Cleartrip
The more frequently you travel, the more benefits await you at Cleartrip. Avail great deals on your flight and travel economically. The site lets you book flights, hotels, trains, and activities like any other travel app. But the intuitive features in Cleartrip are what make it stand out. You can get 360-degree photographs of hotel rooms, discover things to do, and change flights for free. Using 'Cleartrip for Work', frequent travelers and entrepreneurs can avail cash backs, free in-flight meals, and even reduced cancellation fees.
Why Choose Cleartrip?
Automatic fare alert tracking
User-friendly interface
Cashback and reward points
Free in-flight meals on domestic flights

6. TripAdvisor
TripAdvisor flight booking website allows you to search and book flight tickets from the comfort of home. You can also explore a wide range of flight deals so you can pick the best one that matches your budget preferences. Moreover, the TripAdvisor comprehensive travel app travel guidance through customer reviews and recommendations as well. Enjoy stress-free vacation planning with TripAdvisor's free cancellation feature. It acts as the perfect travel companion by helping you make reservations at nearby restaurants too!
Why Choose TripAdvisor?
User-friendly flight booking platform
Saves your time and money
Safe and convenient travel

5. Kayak
Kayak is a leading flight booking app that allows you to find and book flights, hotels, and rental cars. One of the best features of Kayak is its user interface. It is easy to navigate and search for flights and hotels, and you can filter results by price, distance, and airline as well. Keep your trip organized with Kayak! It fetches you the best deals for flights by filtering and sorting out the right options for you. It offers flexible changes and low cancellation charges to enhance your overall experience. Enjoy great offers and discounts on your trip with Kayak.
Why Choose Kayak?
Search by origin, destination, or price range
Get notified of flight deals
Compare prices and find the best deal
Simple and easy interface
Track your refund status

4. Skyscanner
There are times when you are itching to travel but are unsure where to go, where to stay, and what to do. For those times, Skyscanner is your perfect companion. Just hit 'Explore' and find the nicest destinations with the biggest deals. It is in top 10 best website for flight booking. If you are not ready to book yet, then 'star' your favorite flights. Whether you want to book flights, hotels, trains, or cars: do it with zero convenience fees whatsoever. Make your trip a memorable one with thoughtful deals by Skyscanner.
Why Choose Skyscanner?
Know the best flights, hotels, and car
No additional booking fees
Easy to customize flights using filters
Best for international travel

3. Easemytrip
EaseMyTrip – the best flight booking app comes into the picture. Just as the name suggests, EaseMyTrip app will ease your Trip. On flight bookings, you do not have to pay any convenience fee. It has made the whole process of ticket reservation and flight boarding enjoyable. You will also be overwhelmed with the web check-ins, quick refunds, and secure payment. It can also be used to book hotel rooms, as well as bus tickets. Get great deals on EaseMyTrip and save big! So what are you waiting for? Start planning your next trip today!
Why Choose EaseMyTrip?
Available as mobile app and web
cheapest flight ticket booking website
Ideal for domestic and international airlines
Competitive hotel tariffs and holiday packages

2. Goibibo
Goibibo is a flight booking website that allows customers to search and compare flights from all major airlines. The website offers great features such as real-time flight status, easy booking, and 24/7 customer support. Thanks to its user-friendly interface, Goibibo is one of the most popular online flight booking platforms in India. Get great deals on Goibibo today. It lets you browse from all flights available and enables you to make bookings at meager prices. Apart from booking flights, Goibibo also offers bus booking, train ticket booking, and self-drive cars and cabs. With its GoTribe membership, you can even get discounts, seat selection, and complimentary benefits at your hotel.
Why Choose Goibibo?
Authorized ticketing platform
Budgeted flight charges
Couple-friendly hotel booking services
Domestic and international travel destinations

1. MakeMyTrip
MakeMyTrip is one of the leading travel websites in the world that allows users to book flights, hotels, and car rentals. Whether you're looking to book a last-minute trip or plan a budget-friendly vacation, MakeMyTrip has got you covered. Its easy-to-use interface and huge discounts are what make it such a hit among Indians. All thanks to features such as flexible booking, easy cancellation, and customized holiday packages. It is one of the top 10 best websites for flight booking in india. Get great deals on your flight tickets to have the best possible vacation experience. Grab the best coupons for Makemytrip today before buying services from the website.
Why Choose MakeMyTrip?
Hassle-free ticket booking app
24/7 travel assistance
One-way and round-trips facilities
Easy cancelation and bookings


You can explore more informative content on different topics on microadia.net