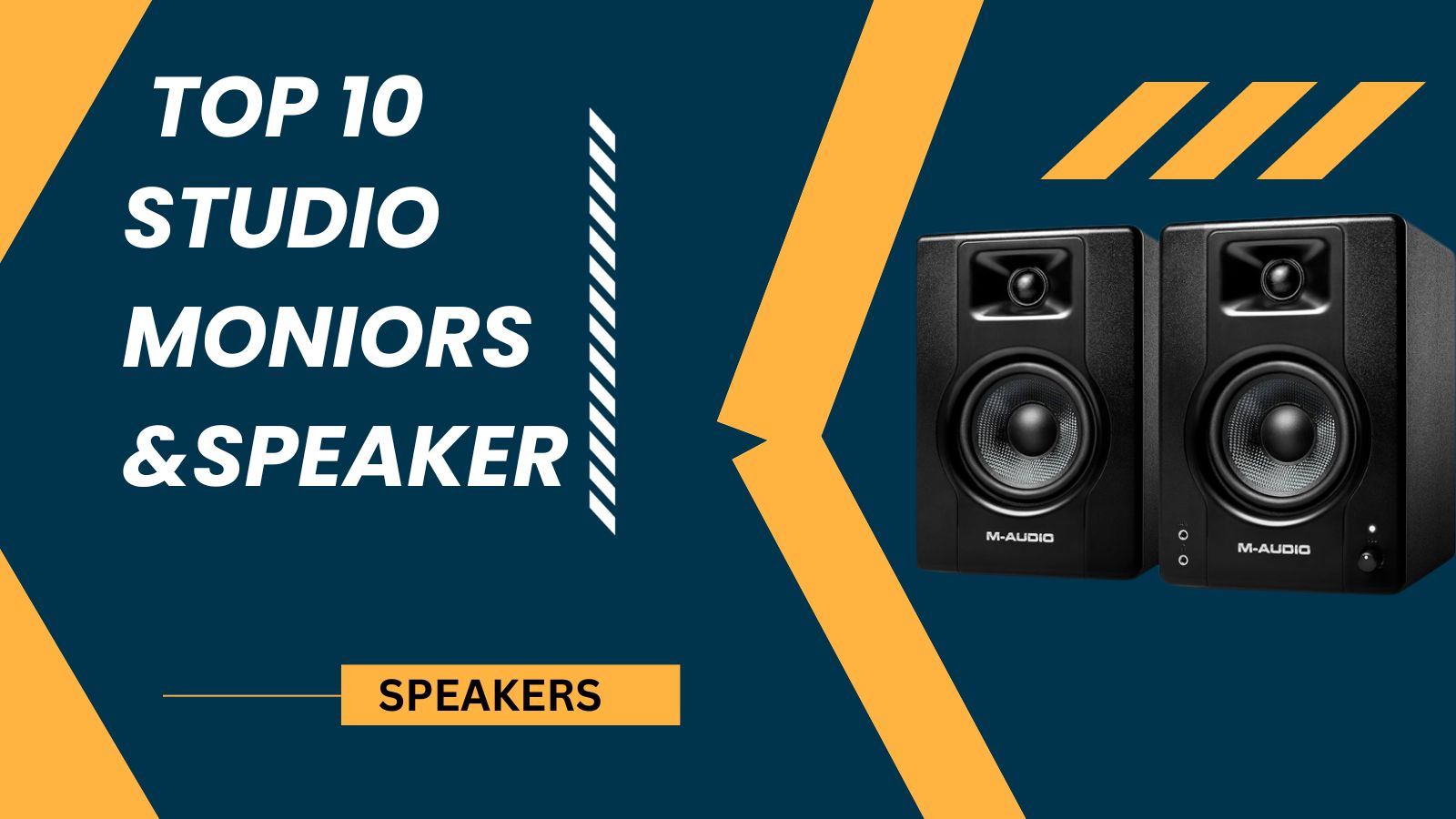 TOP 10 Best Studio monitors & speakers in India
Studio monitors and speakers are an essential part of any studio which helps for every studio artist. They need to be able to provide a clear, sound that is both powerful and balanced. A good studio monitor should be precise and give clear details but also have a wide frequency range. For example, if you're recording electric guitar in your home studio, you'll need a speaker with more power than if you were recording vocals in your home studio.10 Best Studio monitors & speakers in India
Monitors in the studio are very important and crucial part of any studio set up and also the speakers. They are the first thing you will plug into your sound card, and they will be the last thing you hear before you save your mix and send it off to mastering.
LIST OF TOP 10 Best Studio monitors & speakers in India
PreSonus Eris E3.5-3.5"Near Field 25 Watts  Auxiliary Studio Monitor
PRESONUS BEST SELLING STUDIO MONITORS- The only true studio monitor for producing  next hit, gaming, watching movies ,Videos and any multimedia purposes.

POWERFUL & ACCURATE BASS – 3.5-inch woven composite drivers produce a more powerful and a heavy bass response with a more clear and  overall sound.

CLEAR & BALANCED FREQUENCIES – 1″ ultra-low-mass silk-dome tweeters eliminate harshness of it  and provide balanced high-frequency sound for the user to feel good.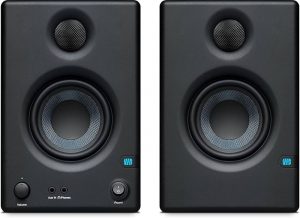 Brand      PreSonus
Model Name    eris e3.5
Speaker Type    Monitor
Connectivity Technology      RCA, Auxiliary
Special feature         Bass Boost
M-Audio BX8 D3 |8-Inch 150-Watt Studio Monitor Speaker
Sound can trust – Class A/B bi-amplified design with 150 W of distributed power for studio-grade, accurate  and clear sound and ultra-wide range  of 37-22 kHz frequency response.

Connectivity covered – XLR balanced and 1/4 Inch balanced or unbalanced inputs for connecting Items like mixers, amplifiers, instruments, DJ gear and more. It covered all the connectivity

8 Inch low-frequency drivers with Kevlar cones for rich, defined lows and 1 Inch high-frequency drivers with silk domes and computer optimised waveguides for smooth, clear highs.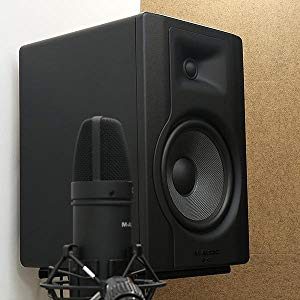 Brand        M-Audio
Model name      M-Audio BX8 D3
Speaker Type      Computer
Connectivity Technology     XLR
Special Feature         Computer
KRK Classic 5 Professional Bi-Amp 5″ Powered Studio Monitor Woofer
An incredibly versatile powered for Field studio monitor, great for any style of music videos and for watching movies

Soft-dome tweeter with optimized waveguide provides smooth, pristine and articulate highs up to 35kHz

Lightweight, glass-aramid composite woofer delivers clear midrange and tight bass which helps in a clear voice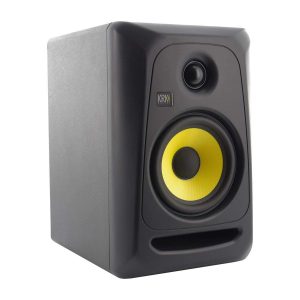 Brand     KRK
Model Name    KRK CLASSIC
Speaker Type       Woofer
Special Feature     Subwoofer
Yamaha Ms101-4 Powered Monitor Speaker,30 Watts Studio Monitor
Compact desktop monitor  in the Studio for audio ,editing and multimedia production
30-watt power amp drives 4-inch woofer and 1-inch tweeter

Front-mounted controls it for easy access for the users.

2-band EQ helps fine-tune and clear and melodious sound in any environment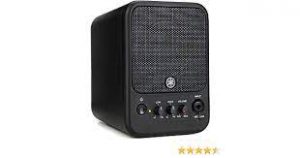 Brand        YAMAHA
Model Name      MS101-4
Speaker Type      Monitor
Connectivity Technology       Auxiliary
Special Feature        Subwoofer
Mackie Studio Monitor (CR3-XLTD-WHT [Pair])
R-X monitors are made up that way to meet the needs of modern musicians, content creators, video production, and beyond. Stunning looks, studio-quality of sound, and convenient features make  the best choice for every users that wants professional sound without breaking the bank.
CR Series Creative Reference make Multimedia Monitors  to offer  a studio-quality sound with cosmetics that compliment anywhere whether you're making music, creating content, or just relaxing to your favorite tunes.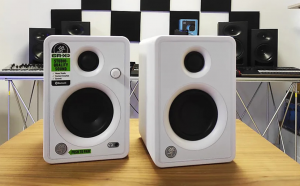 Brand     Mackie
Special Feature    Subwoofer
Recommended Uses For Product  Volume
Mounting Type   Tabletop
Net Quantity      2.00 piece
JBL Professional Jbl
JBL patented slip stream port this patented JBL port design works in concert with the lsr310s low frequency driver for deep, dynamic bass response at all playback levels, the double-flared shape of the port is precisely calculated to optimize low-frequency extension

XLF extended low frequency setting a JBL first, the XLF setting activates a specially-engineered tuning that emulates the ample bass tuning used in today's dance clubs, when producing a dance track, the XLF setting will inspire you and bring a bit of the club to your control from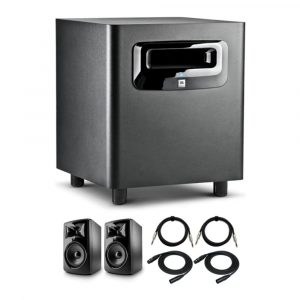 Brand:   

JBL Professional

Model Name: 

LSR310S/230

Speaker Type:

   

Subwoofer

Connectivity Technology:

   XLR
Special Feature:  

subwoofer
FREDO FRD15.8MONO 15 inch Stage Monitor/Full Range 
Powerful, 15 Inch full range driver. Frequency Response 45Hz – 20Khz.

Ideal use for Stage Monitor/Guitar Amps/Autograde/AV Receiver's installation

Texture painted heavy chassis Non pressed paper cone

Pure copper 3 Inch voice coil on kapton paper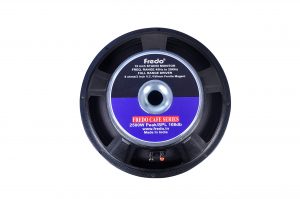 Brand: 

FREDO

Model Name    

MS15.8FR

Speaker Type:

 Monitor   Full Range High Power Speaker
Connectivity Technology: 

connect audio signal wires

Special Feature:

 

Subwoofer
JBL Professional 308P MkII Next-Generation 
About this item
Bundle Includes: Two JBL 308P MkII Powered 8-inch Two-Way Studio Monitors

High-quality: JBL 308P MkII has been equipped with acclaimed 3 Series transducers that now perform even better. Hear deep, accurate, and tightly controlled bass, thanks to a long-throw 8-inch woofer and the patented JBL Slip Stream low-frequency port

Dynamic Range: With 112 watts of total power, the dual, integrated Class-D power amplifiers, custom-designed by JBL for each transducer, give you a generous dynamic range for any project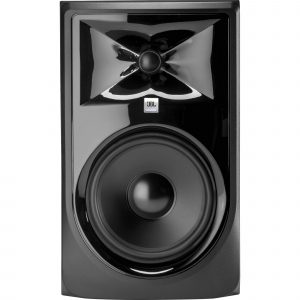 Brand  JBL Professional
Model Name  308PMKII
Speaker Type  Monitor
Connectivity Technology  XLR
Special Feature  Subwoofer
Yamaha HS5 5″ Powered Studio Monitors
About this item
<br>Colour: White<br>

<br>Includes Pig Hog 1/4″ – 1/4″ Cables<br>

<br>Durable Product<br>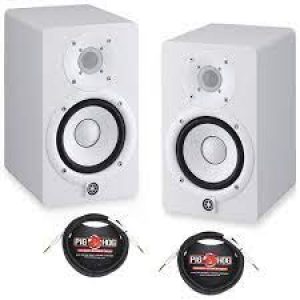 Brand    yamaha
Model Name  HS5
Speaker Type  Monitor
Special Feature    Subwoofer
Subwoofer Diameter  5 Inches
KRK ROKIT RP5 G4 cm 12.7 cm (5″) Powered Studio Monitor 
About this item
Max SPL 104dB, power output 55 watts, input impedance 5.12K Ohm balanced

All new front-firing port has exceptional low-end accuracy, clarity, extension, punch and offers flexible room-positioning

Built-in efficient Class D power amp, 25 visual Graphic EQ settings for different environments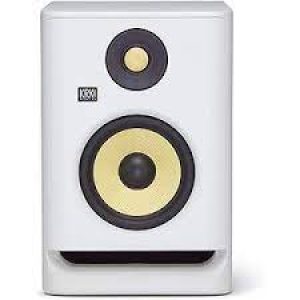 Brand    KRK
Speaker Type  Monitor
Special Feature  Subwoofer
Recommended Uses For Product  Lcd
Subwoofer Diameter    5 Inches
Conclusion
Regardless, I've provided a range of different monitors, differing in style and affordability. So, whatever your budget is, and whatever your specific needs are, I hope that the monitors I've mentioned can help guide you toward making the best decision you can.10 Best Studio monitors & speakers in India
At the end of the day, what's most important is not whether the monitors are the best of the best but that the monitors are what's best for you.