Microwave ovens heat food by using microwaves which is a form of electromagnetic radiation similar to radio waves. Microwaves can be used in cooking because of certain characteristics. They pass through many types of glass, plastic, ceramic, and paper. They are reflected by metal, and they are absorbed by food. So here we are with the top ten microwave ovens in India. 
Types Of Microwave Ovens
1. Solo or conventional microwave oven
A solo or a conventional microwave oven is a basic model which comes with only a microwave option. It allows to cock, defrost and reheat the food by using a Microwave only. So here we are with the top 10 solo microwave ovens in India.
2. Grill microwave oven
A grill microwave oven that only performs grilling action. We can also reheat the food if we compare it with a solo microwave oven grill oven is more advantageous than a solo but it takes time in defrosting and reheating, So here we are with the top 10 grill microwave ovens in India.
3. Convection microwave oven
A Convection microwave oven comes with microwave as well as convection mode. This oven comes with a fan that circulates the hot air continuously. Which makes the food or a baking uniform, so here we are with the top 10 convection microwave ovens in India.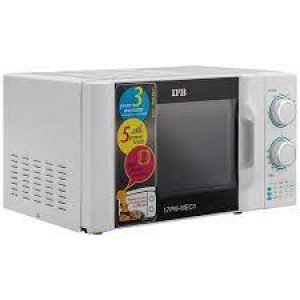 If you are looking for a microwave mainly to boil, reheat, defrost, and heat, this 17L solo microwave is perfect for an individual or even a small family. The black door and a classy white frame give it a classy appearance. 
Pros

3 auto cook options

5 power levels

easy-to-turn dials

Compact design for small space scansion

Cons

cannot bake or grill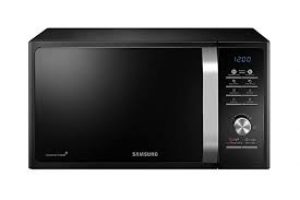 This Samsung 23L Solo Microwave Oven has three basic features are as cooking, reheating, and defrosting food. With its capacity of 23L, it appears to be quite suitable for a family of three or four. The numerous healthy cooking options and power settings make this one of India's best solo microwave ovens. A neat and quick feature is the Indian Recipe 1 and 2 buttons on the microwave.
Pros

Child lock

LED display

Energy-saving mode

Ceramic interior for easy cleaning scansion

Cons

Lacks convection mode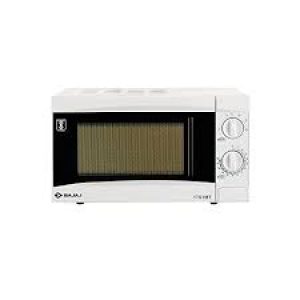 This is a Bajaj 17L Solo microwave oven that comes with a mechanical control knob that helps you to change the heating level and the temperature according to the type of food being cooked. It is having a 30 minutes timer. This product is available in an all-white design with a black rectangular door.
Pros

30-minute timer

Compact design

5 cooking levels

Easy-to-use knobs

Cons

May lack basic presets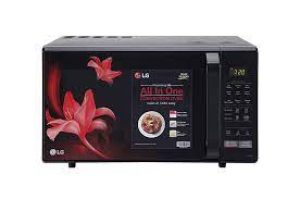 This is  LG 28L Convection Microwave Oven. It is one of the best convection microwaves available in India. Its stainless steel design, well-polished black finish, and feature-filled layout make it good and on the list of our top microwave ovens in India. Its large capacity of 28L makes it suitable for families with many members. The controls for this LG microwave are laid out on a touch keypad. Fortunately, cooking, reheating, and defrosting are not the only things you can do. You can even fulfill all your baking desires with this microwave oven.
Update - Highly Recommended on Amazon
Pros

Child lock

Easy-to-view display

Sensitive touch keypad

Auto cook menu option

Cooking completion alarms

Cons

May be prone to overheating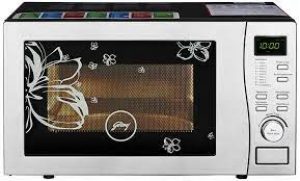 This stainless steel microwave oven by Godrej19L Convection type makes it unique. it comes with preheat multi cooking and Defrost system. It comes with a glossy finished door which makes it more classy.
Pros

Child Lock

Easy-to-view LED display

Comfortable tactical buttons

125 instant cook menu options

Stainless steel rust-free cavity con

Cons

Only available in one color combination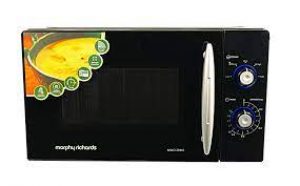 This 20L microwave oven by Morphy Richards comes in charcoal color and its compact design is some of the reasons why it's on our list of the best microwave ovens in India. It can Be Used For Grilling Along With Reheating, Defrosting, And Cooking.
Update - Highly Recommended on Amazon
Pros

Stylish design

5 power levels

Powder-coated cavity

Easy-to-turn dial

Cons

The mirror finish glass may get easily scratched.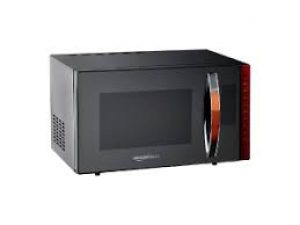 This microwave allows for baking, in addition to its essential functions. Its capacity of 23L makes it perfect for a family of three members. The microwave has a child lock function and a smart function thallowslws you to cook 65 auto-cook menus, making this microwave unique and on the top 10 list.
Pros

Child lock function

65 auto-cook menus

Easy-to-clean interior

Sleek and modern designations

Cons

The warranty is only limited to 1 year.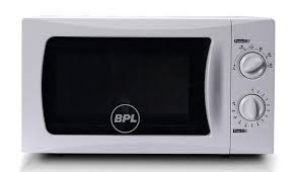 This BPL 20L Solo Microwave Oven is available in an all-white design with a dark front glass. it comes with a quick defrost mode and a cooking alert system making it easier to use. It is  suitable for bachelors or small families and Can be used for reheating, defrosting, and cooking
Pros

Quick defrost mode

Cooking alert system

Easy-to-turn jog dials

Easy-to-open doorstops

Cons

It may be prone to overheating.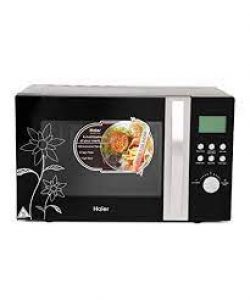 This Haier 28L convection microwave oven comes with stainless steel Its ability to combine microwave and grill mode is a bonus. The curved door handle makes it easy to open, it contains a deodorizer for eliminating odors. The added function is a steam cleaning functionality which makes this microwave oven the best of others.
Pros

Deodorizer for eliminating odors
Motorized rotisserie
Stainless steel cavity
Steam cleaning functionality

Cons

It might not be the most compact.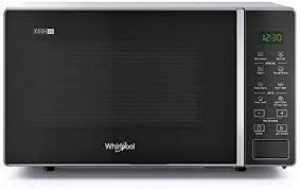 Whirlpool 20L Solo Microwave Oven Its compact and ingenious design with an all-black finish makes it look stunning.i t comes with 21 Auto cook menus and a feather touch control system  A highlight feature of this microwave, which makes it one of the best microwave ovens in India,
Pros

5 power levels

21 auto cook menus

Powder-coated cavitFeather-touch

Feather-touch controls

Cons

It might be prone to overheating.
How To Choose The Right Microwave Oven In India/Best microwave oven in India 2022
1. Size Of The Microwave Oven
 It is always preferable to purchase a compact microwave oven as per the size and space of your kitchen. However, it is also important to check that its compactness does not come at the cost of poor heat dissipation.
2. Capacity
This factor simply depends on your daily usage and the number of family members. The standard size of 20-23L is suitable for an individual or a small family of three. A 25-28L is appropriate for a family of four or more.
3. Cooking Power
It depends on how quickly you want your food to cook is a crucial factor when choosing the right microwave oven. Well, a higher wattage oven will cook food faster than its lower wattage counterparts.
4. Features
Microwaves usually come with numerous features. It's nice to have an LED display, easy cooking, and baking options, quick defrosting, and a child lock function. These are some of the things you might want to keep an eye out for.
Frequently Asked Questions
1. Can microwave ovens eliminate bad odor?
This will entirely depend upon the type of microwave oven in question. Some microwave ovens come with a deodorizer function, while others require you to do it manually. Baking soda with water or even vinegar mixed with water is more than capable enough of getting rid of funky odors.
2. Do microwave ovens kill the nutrients present in the food?
While many believe that they do, it has been scientifically proven that microwave ovens don't destroy as many nutrients as cooking on a stove does. It helps preserve the nutrients in the food. To preserve the nutrients, the food needs to be cooked using a method that does not expose the food to very high temperatures for prolonged periods. Therefore, when cooking in a microwave oven, the food retains most of its nutrients and minerals.
3. How can I clean the interiors of the microwave?
This is quite simple. It can be done in numerous ways, by using either baking soda, vinegar, or lime juice. Vinegar and water can be added to a microwaveable bowl and placed inside the microwave oven for 5 to 10 minutes. Once it is done, remove the bowl and use a sponge soaked in a vinegar and water mixture to clean the remaining residue.
4. How do I know if my microwave is leaking radiation?
 A simple way of checking this is by plugging in the microwave to the wall socket and turning on the switch. Place a mobile phone inside the microwave and close the door of the microwave. Use another phone to call the phone inside the microwave. If the phone rings, it means that your microwave is leaking radiation. A microwave that isn't leaking radiation will not allow any cellular waves to pass through it.
Microwave ovens are useful kitchen essentials as they come in handy when you want to cook, reheat, and defrost food or when you're in the mood to bake. The best microwave ovens listed here are multifunctional, durable, and easy to operate, so you can prepare your favorite treats just as you like them. When buying one, ensure that it's the right type, size, and capacity. Further, choose one that is compact and comes with different power levels, a child-lock function, and an LED screen.
Safety Tips for a Microwave Oven
Following are a few safety measures that must be followed while using a Microwave oven.
First and foremost, always read the instructional manual for manufacturer-related safety instructions.

Never use the microwave with the door open. Remember to close the door before starting it up.

Use microwave-safe containers. Do not use any metal utensils in the microwave. Check the containers or crockery to ensure that they are microwave-friendly.

Place microwave away from heating sources in the kitchen

 If food items or materials inside the oven catch fire, immediately turn off the power

Do not cover the vent of the microwave at the top when it is in use

Over-sized food containers should not be heated inside

Never use the microwave as a storage unit