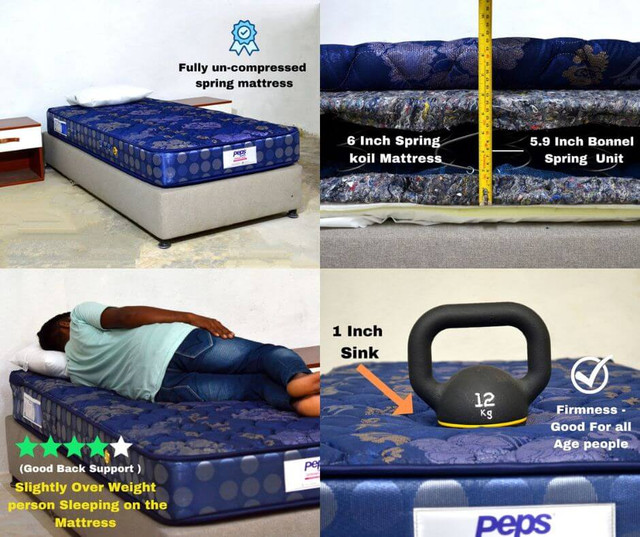 Best Mattress Brands in India. Buyer's Guide
Looking for the Best Mattresses Brands in India to buy? Or confused to buy the one. Well to solve all your mattress-related questions and to make your choices clear, we have listed the top 10 best mattress brands in India and their prices. Sleep is everything to a human being so when it comes to buying mattresses, we all think about only one thing which is comfort. There are best brand mattresses available in the Indian market, but still to buy the best from the top list is truly a task. To solve you're which one to buy mattress puzzle? In this article, you can find the answer.
Types of Mattresses
When you want to buy a product it's important to know about its features and the advantages you can get from it. Similarly, when you are set to buy the best mattress brand look for the one that can benefit you and fits your bed.
Mattresses come in various types you can learn about them in the following and can get an idea to buy one.
 Spring
The spring mattress is one of the leading and most popular mattresses.  it contains the most comfortable material. And it is made with a different coil mechanism. It is made with coil/springs like Bonnell Spring or Open coils that provide better support with uniformly connected springs.
 Foam
The foam mattress is the trending and most popular form of mattress in India. It contains different categories or types within itself. They are memory foam, gel-infused foam, latex foam, and polyfoam or Pu foam.
Hybrid
The hybrid mattresses are made with more than two materials. In general, it contains major two layers the bottom one acts as the supporting layer and the upper layer is covered with foam, which makes it comfortable to sleep on.
Sunday No.1

Not many brands in India offer latex mattresses
Kurl-on

Kurlon brand is synonymous with coir mattresses in India
SleepyCat

you can say goodbye to backache and pains
Duroflex

Mattress - Orthopedic Mattress - Rise Spring Soft Mattress
Flo

Memory Foam Mattress, Medium Soft
The Sleep Company

Best SmartGRID Mattress Online
SPRING+TEK

SPRINGTEK HealthSpa Orthopaedic
May you Check This-10 Best Home and Kitchen Appliances Brands In India
List of Top 10 Best Mattress Brands in India
We have created a list of the top 10 best mattress brands in India. That can help you choose better and you can learn about the mattress brands you want to buy.
 Sunday No.1 Ortho Mattress Brand in India
Sunday Mattress – #1 Orthopaedic Mattress brand a known to produce the best orthopedic mattresses in India at affordable prices. Their products are more focused on natural materials not just low prices. If you are looking for great orthopedic support and raw materials in the mattress, we highly recommend Sunday Mattress. They can only be purchased on their website www.sundayrest.com. They ship across the country and offer the fastest delivery. The mattresses come in 18 standard sizes, and they have custom sizes.
Features of Sunday Mattress are:
other online brands, the mattress is not compressed.
Has a 30% longer life, and the best Orthopaedic support among all the brands.
Natural materials used, like Natural Latex and Organic cotton fabric, for maximum comfort in summer.
If you do not like the product, you can return the product and get a 100% cash refund
Available in Custom Sizes, the best Bed Mattress with high-level comfort

Kurlon Mattress brand of India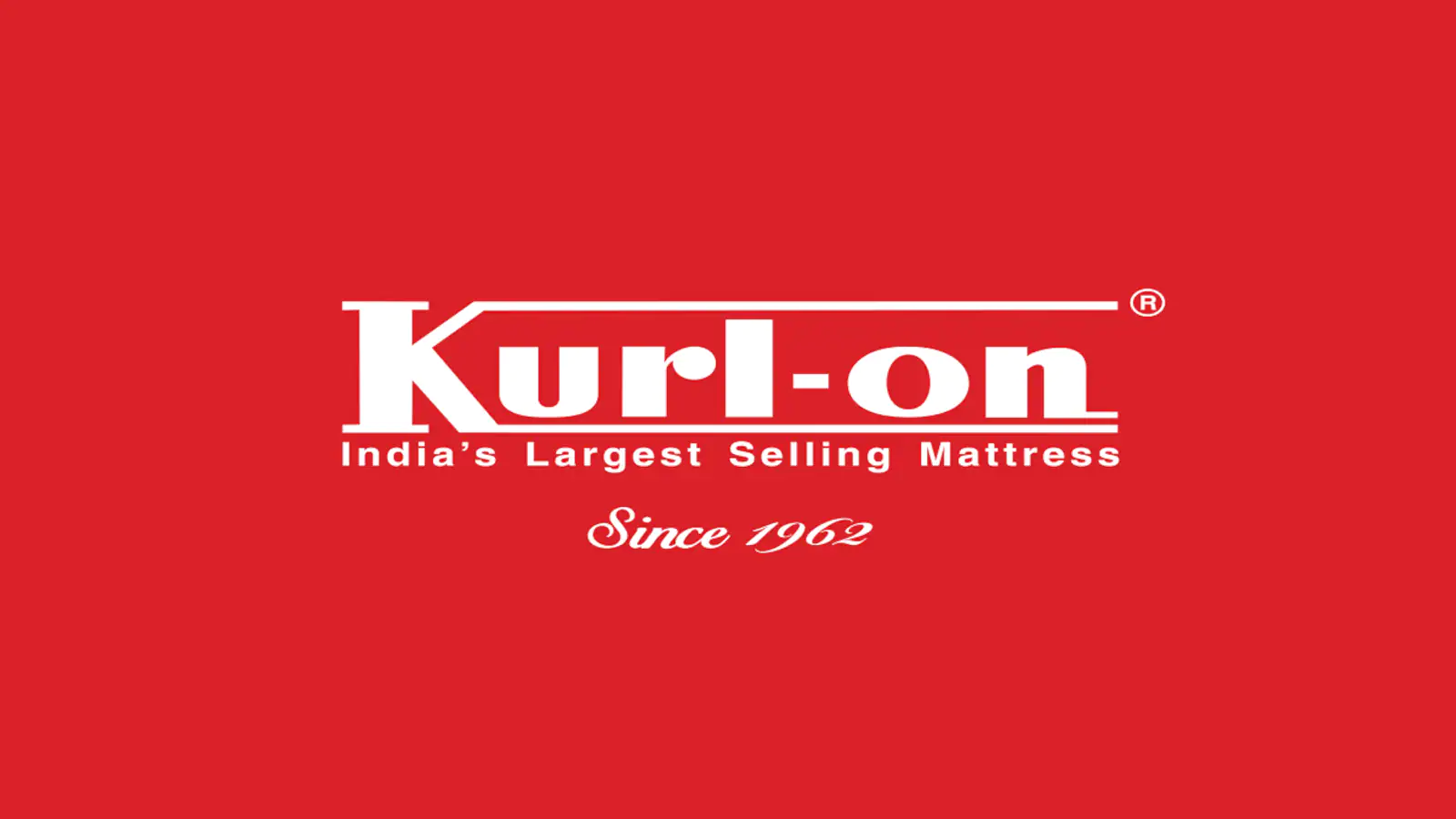 Kurlon mattress is one of the top best mattress brands in India. You can find the mattresses of kurlon in the leading online mattress websites and shopping platforms like Flipkart, Amazon, myntra, etc.
The brand Kurlon has completed 60years as the best mattress brand in India. The brand offers and contains a variety of collections of mattresses. Some of the features of the Kurlon mattress brand are,
high resilience foam mattress
Compressed edition mattress in a bag
Waterproof mercerized mattress
The brand kurlon offers pillows and blankets. With these many things to offer the kurlon ranks among the top mattress brands in India.

SleepyCat Mattress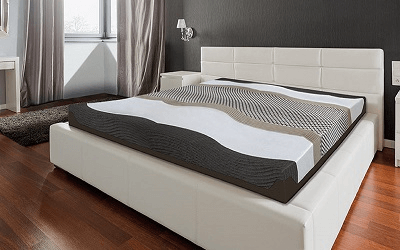 The leading and one of the best mattress seller brands in India is SleepyCat. They offer mattresses in four combinations Original, Ultima, Hybrid, and Kids mattresses. You can shop them from their official online mattress website and can even find them on the leading E-commerce websites as well. Like Flipkart and Amazon.
The Best features the Sleepycat Mattress Brand Offers are,
Removable Mattress cover
A Vacuumed Mattress with a rollable feature
 Good material with a cotton blend
Soft and medium-firm mattresses

Duroflex Mattress
Duroflex mattresses are one of the top best mattress brands in India. They are knowning for their quality and effective deals on mattresses. You can find all kinds of beds and mattresses in any size that you want. Duroflex is top on the consumer mattress brand needs in India.
The mattresses of Duroflex India come in all shapes and sizes. You can invest them without any due.
Some of the best features of the Duroflex Mattress Brand are,
You can Customize the mattress according to the needed size
Comes with comfort and support layers
Contains memory foam scientifically approved
Soft, firm and provides a great level of comfor
Flo Ergo Gel Memory Foam Mattress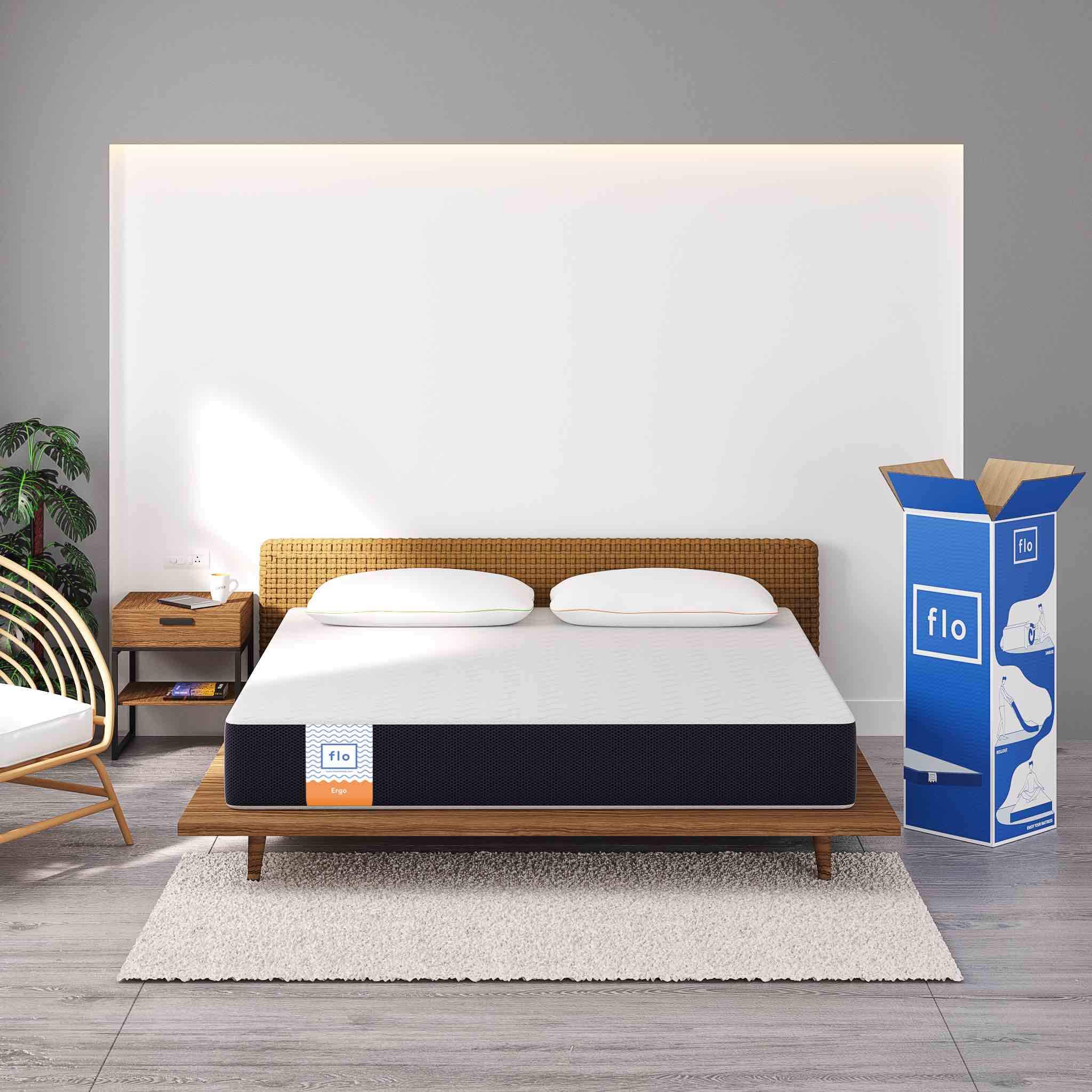 The flo mattress is available in two memory foam mattress forms ergo and ortho. The ergo gel memory foam mattress is the leading best mattress brand in India by flo. It is a gel-infused memory mattress and has 3D airflow technology. That will help to have better sleeping nights.
The best features of the flo mattress brand are,
offers the ergo gel mattress in different sizes. They even contain baby and custom-size mattresses.
The best level of comfort is provided and a soft mattress
Removable cover
high in quality and with sag resistants

The Sleep Company Smart GRID Luxe Mattress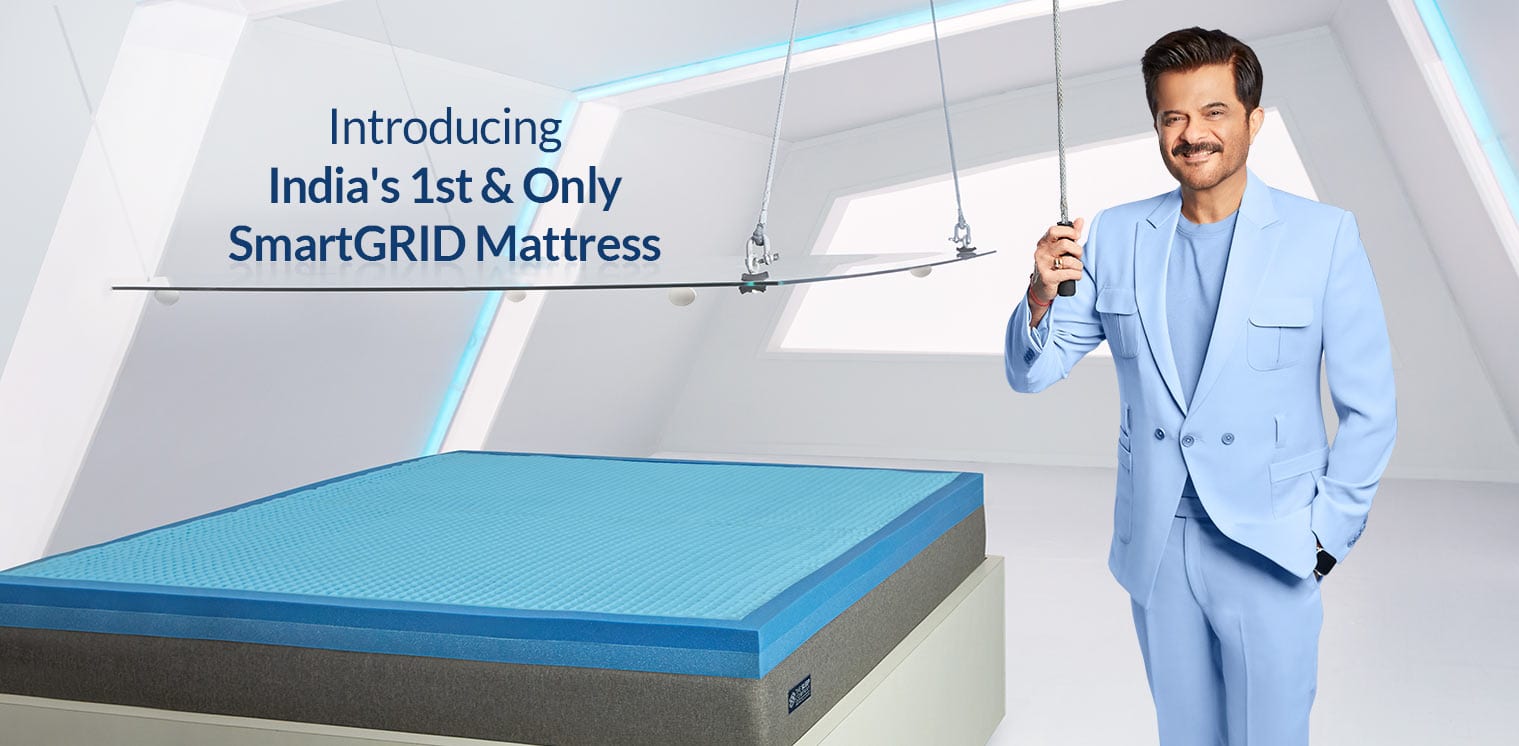 This sleep mattress is one in a kind it is manufactured with Japanese sleep technology. And it is India's first inbuilt technology mattress. The foam in the mattress is firm and soft, it  contains motion isolation, gives cool airflow, and is highly durable. With these qualities, it makes the chart of the top best bed mattress brand in India.
The Smart GRID Luxe Mattress from sleep company carries some amazing features,
High-Density support and comfort layer foam
Grid layers with even firmness
High flexibility
Super soft, crafted layers, and cloud comfort bed mattress

Sleepwell SleepX Ortho Memory Foam Mattress

The Ortho memory foam mattress is a luxury mattress with orthopedic technology. It contains next-gen foam and rights the checkbox of comfort and  ranks itself in the list of top mattress brands in India. This mattress is available in the following sizes,
Single mattress
Double – Double mattress for normal room
Queen – Queen size for the bedroom or the guestroom
King – King-size mattress for the master bedroom.
Custom – you can get it done according to the need of your bed size. You can enter your bed dimensions and buy the mattress online or go to a nearby mattress shop to get it done.

Wakefit Orthopaedic Memory Foam Mattress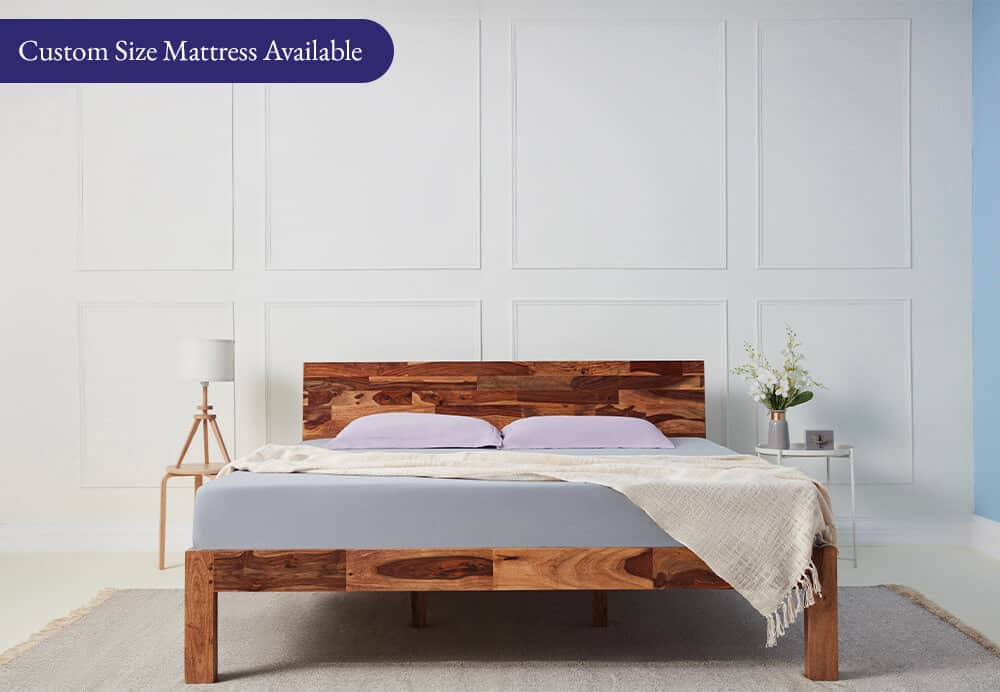 The peps springkoil mattress contains PU foam and Bonnell springs. It is a reversible mattress that can use on both sides. The fabric of this single, double bed mattress is super soft and gives a high degree of back support.
Bonnell sing bed mattresses are set to provide long-lasting comfort and to remain strong and flexible. And mattresses with this feature are most in-demand as they take their place in the top best mattress brands in India.

Springtek HealthSpa Orthopedic Foam Mattress

This orthopedic foam mattress is offer for firstcry India's leading fashion and home shopping website. You can find this comfortable health spa orthopedic mattress in-formative sizes. The mattress contains super-soft foam and responsive memory foam according to your body heat.

SleepyPanda
SleepyPanda kickstarted with the simple idea of improving people's sleeping experience with comfortable and affordable mattress solutions. Their top products include Luna Dual comfort ortho mattresses, Vita ortho memory foam mattresses, microfiber pillows, and memory mattresses.
SleepyPanda has developed mattresses that reduce back aches along with an innovative gel technology used in creating memory foam. They  provide free shipping and a 10-year warranty period. SleepyPanda follows the B2C business model and sells products directly between the business and customers.

FAQs
Which is the number 1 mattress in India?
The number 1 mattress in India as per newindianexpress.com is SleepX Ortho Memory Foam Mattress by Sleepwell.
Is Sleepwell an Indian company?
Sheela group is the parent company of the Sleepwell mattress. Sheela group is an Indian company with a market presence worldwide. Sleepwell can take as an Indian company.
Why is Wakefit  cheap?
The Wakefit products are manufactured with the thought that good sleep is not only for the rich. The products are manufactured with complete results to provide good sleep for everyone.
Is foam mattress good for health?
When compared with cotton mattresses, foam mattresses are good for health as they provide firm support to the body that increases sleep quality.
Summary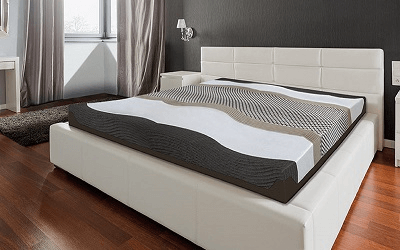 Article Name
10-best-mattress-brands-in-india 10-best-mattress-brands-in-india
Description
A Complete List Of The 10 Best Mattresses In India ..... Wakefit is a well-known mattress brand in India that delivers high-quality mattresses
Author
Publisher Name
Publisher Logo