:Biluma Skin Lightening Cream:
These cream is specially made for dark spot and hyper pigmentation which is for all skin types . It gives a natural glowing skin and for skin whitening it has lituiorice that protected by dullness and gives inflammatory skin tone. biluma depigmenting and skin lightening cream review.
Developed with care, Our products has a unique formula that contains the protective essential content. Our product is ideal for sensitive skin. Featuring a steady stream of moisturizing ingredients throughout the day and night.
Our products includes the content to help calm the skin and deliver comfort throughout the night.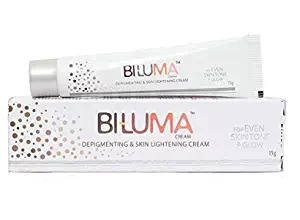 Brand                                           Biluma
Item Form                                    Cream
Use For                                         Face
Skin Type                                       All
Special Ingredients                        Aloe Vera
Item Volume                                   24.8 Nanolitres
Product Benefits                             Lightening, Whitening
Age Range                                      Adult
Specific Uses For                             Dryness
Item Weight                                    45 Grams
About This Item:- 
Biluma Cream Contains Kojic Acid, Arbutin, Liquorice, Mulberry Extracts,Tetrahydrocurcumin And Artocarpus Extracts. It Is A Depigmentation.
Artocarpus Is Known Fot Its Skin Whitening Properties ; It Lightens The Skin And Appearance.
Arbutin Is Hydroquinone That occurs Naturally. It Has Skin Lightening Properties And Its Effective in Controlling Skin Pigmentation.  Is Uses For The Treatment Of Skin Pigmentation And Lightening Of The Skin.


Biluma Skin Lightening Cream