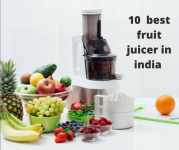 Best Fruit Juicer in India
      Best Fruit Juicer in India
We have Curated some 10 Best Fruit Juicer in India for you easy selection reason being. You must have heard the famous saying " An apple a day keeps the doctors away" In our Diet the Fruits are always  considered to be the best of all the eatables. Fruits are nature's best gift which has been given to humans . The Richest source of vitamins and minerals as they provide the body with bundle of antioxidants .when fruit juice is home made with the help of a juicer it is becomes more richer in nutrient .Even fresh and tasty which keeps you nourished specially in the summer session .
Nowadays there are many packed juices available in the market.which have a lot of preservatives and sugar in it. which defeat the nutrition value and lead to other health issues .
The Simple answer to this situation is to have the Best Fruit Juicer in India at  home . With which you can't only get fresh  juice But also can do a variety of experiments in taste  with different fruits juices .This way you can also reduce your hygiene worries .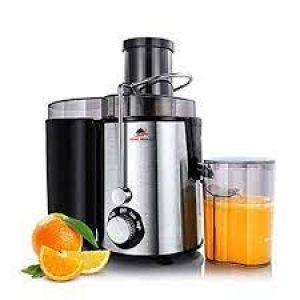 Types Of Juicers :-
Centrifugal juicers: -These type of juicer use blades to Cut the Fruits and Vegetables to separate fluids of different densities or liquids from solids.You can Extract the juice by Straining the Pules Continuously.
Cold Press juicers:– These are the most common form of the juicer which are found every where .The process of juice extraction is  by pressing slowly the fruits and vegetables in juicer .This is Takes lot of time  but they preserve the nutrients of fruits as their low heat action . They Come as Twin gear Juicer or Single gear Juicer.
Citrus juicers: These Juicer are mainly for the Extraction of  Juice from the Citrus Fruits , the primary feature of this is as these have Manual extraction operation to get more juice and these are very handy and easy to maintain and Clean.
 List of

 Best Fruit Juicer in India

:- 
Havells Nutri art slow juicer 200 w Feature And Specification  :-
The Havells Nutriart Slow Juicer is an State of art product from the house of Havells . The Juicer with its stylish design is suitable for home  as well as the Restaurant Purpose. Made from the ABS Material and Have Copper Winding powerful motor of 200 w generating 70 rmp . To load the whole ingredient. Loading a whole fruit makes juicing convenient and fast .The Product is equipped With 3 pulp control settings-low, medium, high which  allows you to adjust your juice's thickness and fiber content .It Has Tough and durable ceramic auger for better durability and performance. Auger helps in slowly crush ingredients  to extract natural juicing.
Key Feature :-
2 years warranty from the Manufacture
Wider feeding chute Helps to load ingredient while loading a fruit makes juicing convenient

Perfect Choice for smoothies preparation.

Can Extract juice from fruits, vegetables, wheat grass, and soy.
USHA JMG 3345 Feature And Specification :- 
One of the most efficient and most robust product from the house of the Usha is USHA JMG 3345 Juicer and mixer Grinder. This is design in such a way that its function helps you in your daily encounter in the kitchen jobs , courtesy  it's 100% Copper Motor of 450 W which impact the performance to the high level  ,along with detachable resistance jar and part make in very Easy to clean.
All in all this product offer versatility and quality that can handle multiple task .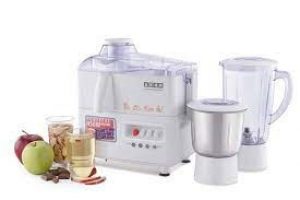 Key Feature :- 
100% Copper Motor
Detachable jars and part for Easy cleaning
Impact Resistance Jars made of stainless steel
Warranty:- 2 years on product and 5 years on motor
Three Speed Option and  pulse function
Overload protector for motor safety.Locking System

Flow breakers, easy and faster juicing
Usha cpj 382s juicer Feature And Specification:- 
This Usha Cold press juicer is a silent , cool operator comes with unique low-temperature juicing technology which retain the freshness of all the nutrients of the fruits . It works a slow spin speed of 67 rmp which intacts the natural taste and all goodness of the ingredients. Comes with fine filters that allow you  to have a fresh juice with a hint of pulse.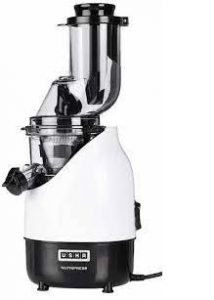 Key Feature :- 
2 years manufacturer Warranty
200 watts juicer
Single motor
Full mouth Feeding tube
Spinning brush for pulpier juice
clog free operation
Retains more Anti Oxidants in Juice ,Safety Lock
Philips juicer HR 2777 Feature And Specification :- 
This Product Offers Tasty and fresh juices in a minutes time . Transparent 2 sized bowls allow  you to press any size (Large or Small ) of Citrus Fruits more Conveniently and Ease . You can Actually View the Juice Extraction in it.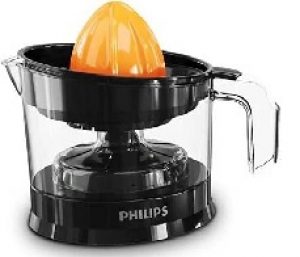 Key Features :- 
2 Year Warranty
25 watts Powerful Motor
2 Way Rotation
Easy Clean
Cost Effective
Sujata Powermatic plus Feature And Specification:-  
Sujata is  equals  to the Value For Money deals with the  proven performance  from decades it has created an image of most trust able ,sturdy, and reliable Juicer not for home but also in retails Perhaps among 10 Best Fruit juicer in India  . This juicer comes with a unique honeycomb Mesh Filter for finer juice , Transparent and unbreakable jars , High Strength Stainless steel Blades that Cut the fruits faster and very Fine .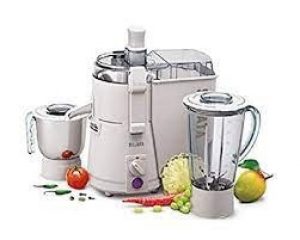 Key Features : –
1 year Manufacturer warranty
900 watts Power Motor
Requires Low Maintenance and trouble free operations
Double ball Bearing Motors
90 min continuous Running time
Retains Original Flavor of juice
Bajaj Juicer Majesty Jex 16 Feature And Specification :- 
If you want Ultra Fresh fresh fruit or vegetable Juice in a couple of minutes ,then Bajaj Juicer Majesty JEX 16 Extractor is the one you should look for . It is equipped with the powerful motor of 800 watts and comes with stainless steel mesh.  Easy to operate as its has 2 speed Controls . Has Additional Features like dual lock facility that improves the safety and comes with the 2 liters pulp collector and 1 liters of juice Collector.  so that you can Enjoy fresh and healthy juice at home .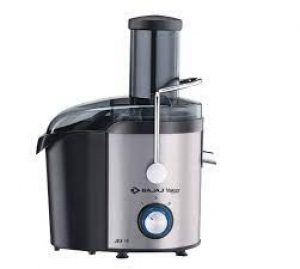 Key Features :-
2 Year Warranty
800 watts Powerful Motor
2 speed control
Backlit LED Control Panel
Removable and washable strainer and dual lock
Stainless steel juicing mesh
Dual lock facility that enhances safety
Bajaj Majesty JX4 Feature And Specification :- 
The ideal Kitchen Appliance for every Home Which can Simplify the Cooking as its a multi tasking ability .Its Simple Design allow you to make you quick and fast in your kitchen as its more User Friendly . we can define  this as professional Design with Efficient performance .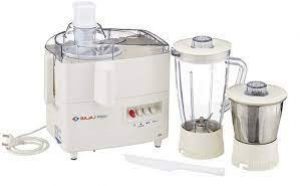 Key Features:-
Warranty: 2 years on product with additional  5 years on motor 

Powerful 450 watts optimum speed motor

2 speed control with inches for momentary operation

In-built pulp container

Spatula is given for easy removal of mix 

changing of blades. RPM: 18000

Super efficient Centrifugal Juicer
Food pusher for efficient juicing
Havells JMG Rigo Feature And Specification :-
The Juicer is a great complement to the good and active lifestyle it is designed to meet the basic requirements of all our culinary  with it's two jar that can be  used as per the usability . This can be used as mix of juicer as well as Mixture Grinder .The Juicer Grinder consist of one blade jar for the Soft fruits . Has Stainless steel juicer mesh which is very safe and durable  .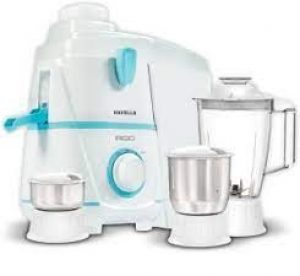 Kuvings B-1700 Feature And Specification :-
The Most Efficient and Power pack Juicer Combination with Stunning technique that comes with all new  Kuvings B1700 Cold Press Whole Slow Juicer. 
The Juicer is equipped with patented Slow juicing mechanism . With it's unique slow rotating masticating technology it efficiently cold press ingredient make 100% fresh natural juices and nut milk with maximum nutrient intact .  The Safety Lock system  allows it to work only if the main and body and drum are connected precisely.It  comes with a power pack motor of 240 watts with speed 50 RPM. Its Slim and Sleek Design saves a lot of counter space . The Translucent hopper enables an entire apple being juiced. It helps in two kinds of ingredients mix together for richer and various types of customized juices.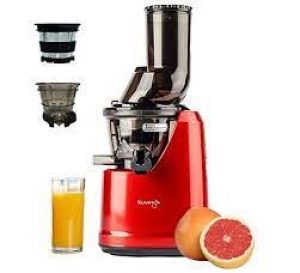 Key Feature :- 
240 Watts Juicer
Single Motor | 50 rpm
Slow-Rotating Masticating Technology

Patented JMCS Technology for Guaranteed Maximum Yield. At least 10% more juice than any other Cold Press Juicer.

Safety Lock Design

240 Watts Powerful, Durable and  Quiet Motor.

76 mm wide feeding tube.

Capable of cutting any Fruits, Vegetables, Leafy Greens

Capable of Crushing Nuts (Almond, Cashew etc) to get delicious Nut Milk.

Green Cleaning Tool helps in cleaning the Juicer in less then a minutes time .
Rico electric juicer Feature And Specification:-  
With Rico Electric Juicer put away all the bottles of packed assorted drinks and keeps you healthier and more refreshed . You are going to love doing a lot of experiments and making of different juices at a ease . An Ideal Solution for high speed life .
Key Feature :- 
Rico Juicer looks good and is extremely easy to operate & maintain
Made of ABS Plastic Body
Powerful Copper 350w Advance Motor with low Noise Feature
Can Can extract juice from almost all fruits & vegetables
2 Year Replacement Warranty
Two-speed option
Easy to clean
Anti Skid Fleet .
If you are looking for best printer please visit our article :- Best HP printer in India